Lennelle Dougherty McKinnon '58, or "Lennie" as she is known to all, has worn nearly every hat for her alma mater and is an active member of the local community.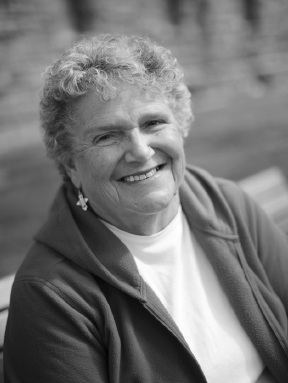 As an English major at St. Lawrence, she was inducted into Qwens, the English honorary society, and Phi Beta Kappa. She was also an officer in the Delta Delta Delta sorority and remains an integral member of the alumna leadership for Beta Chapter of Tri Delta at St. Lawrence. Lennie married her college sweetheart, the late Bernie McKinnon '57, with whom she had three children: Cathy Hughes Morrison '83, Michael McKinnon '83 and Christina McKinnon Cooper '84. Her granddaughter, Brady Cooper, also graduated from St. Lawrence in 2015.
Lennie's 33-year teaching career includes recognition as an Outstanding Educator by Delta Kappa Gamma and Kappa Delta Pi. Her community involvement includes serving the Edward John Noble Guild as a long-time board member, two-time President, and for 20 years as chair of the Canton-Potsdam Hospital Guild's golf tournament.
For St. Lawrence, Lennie has been a member of her class reunion planning and fundraising committees, was an active member of the Alumni Executive Council, and continues to serve her classmates as 1958 class reporter. In 2013, she was recognized with an Alumni Citation as a supporter, friend, and surrogate parent.
Her years of support of the hockey programs, the St. Lawrence Fund, the McKinnon International Travel Award, a generous bequest, and more recently, a gift from her IRA, are testaments to Lennie's commitment to her university and supporting the next generation. Lennie clearly exemplifies Laurentian values and therefore merits recognition as the 2018 G. Atwood Manley Society Achievement Award recipient. View Lennie's remarks upon accepting the award »