"My parents went here, my grandfather went here, and my sister was here, and my nephew is here now."
Deena Giltz McCullough '84 had heard stories about St. Lawrence throughout her childhood in Plattsburgh, New York. She even visited the campus a few times, enough to make the place feel familiar before enrolling. Still, like all new students, she found a place that pushed her to learn more — starting with herself.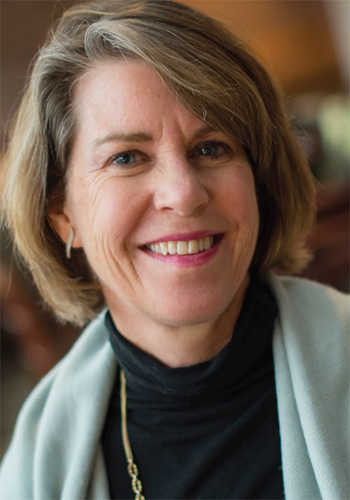 "I found that I loved the academics," she says. "I studied abroad and Ginny and Al Schwartz were big influences in my life. Bob Wells, too. I had this really terrific experience. Studying abroad in Copenhagen, I took the full year. I went by myself, by train, above the Arctic Circle and I hitchhiked all over Europe."
After graduating cum laude, family, work, and a long list of other interests kept her busy. She became the third generation and first female president and CEO of Northern Insuring Agency, Inc. Then, 20 years after commencement, she was asked to consider a position on the Alumni Executive Council. Members are elected to serve the University as ambassadors, advocates, and leaders, promoting the University's mission and giving a voice to all those indescribable qualities that set St. Lawrence apart.
The experience served her well.
"I went on to be president of the Alumni Executive Council, which was just a phenomenal experience, I mean, the opportunity to work with Lisa Cania, and I was honored to be a liaison to the Board of Trustees and since then, I've been a LINC [Laurentians Investing in Networking and Careers] volunteer. I'm now working with — mentoring — my third student."
McCullough is also co-chairing her 35th Reunion. "I say yes if I can say yes. I really like working with the people at St. Lawrence. They're really good people."
She says that it's these people and the Laurentian character that her class wants to celebrate.
"You run into people all over the country, all over the world, that are connected to St. Lawrence. It's the connections that get to the core, what really makes a difference to people. And we're the ones who keep it going. Maybe you connect with a new grad or you mentored somebody else or you see someone you can help. Can you help them with an internship, or maybe you're willing to talk with them and listen to them and help guide them."
On Giving to St. Lawrence
"My father told me, he said, 'You will do this.' He gave me an envelope and said, 'You're expected to make a donation,'" remembers McCullough, who reflects on the impact St. Lawrence continues to have on her life. "Who tells you to do these things?"
Another, bigger shift in her thinking, McCullough says, was her own growing interest in the impact that St. Lawrence has on her life.
"All my experiences here, working with people, are always positive. I get a sense that it's genuine. Making those donations, taking part in Reunion, those things matter. It's also setting up the University for a future that will be part of people's lives. It's trite to say, but this is bigger than ourselves. St. Lawrence will go on in perpetuity."
Looking Forward, Together
"Our kids are another important part of our philanthropy," McCullough says. "It's a way to talk about and impart things, like our values, that matter to us. I set up a foundation that can support a few entities, like St. Lawrence, after my death. In addition to my will, I wrote a letter explaining that I want my surviving family members to come together each year and make decisions together on how to disburse the foundation's money. So we've introduced our kids to the lawyer and financial planner and, in the process, they're learning to be thoughtful about what it means to build a better world."
Philanthropy can bring people together, she adds. "Especially around a value that means something. Ultimately, it's not so much about the money, it's the people and the connections between them and the impact that you make."
We would like to invite you to consider joining the Manley Society. Make a planned gift and you can become part of an important group who provide lasting contributions to our community. If you have included St. Lawrence in your estate plans, we hope you will let us know and allow us to count you as a member of this esteemed group of alums and friends.
It's easy to join – learn how to become a Manley Society member today.