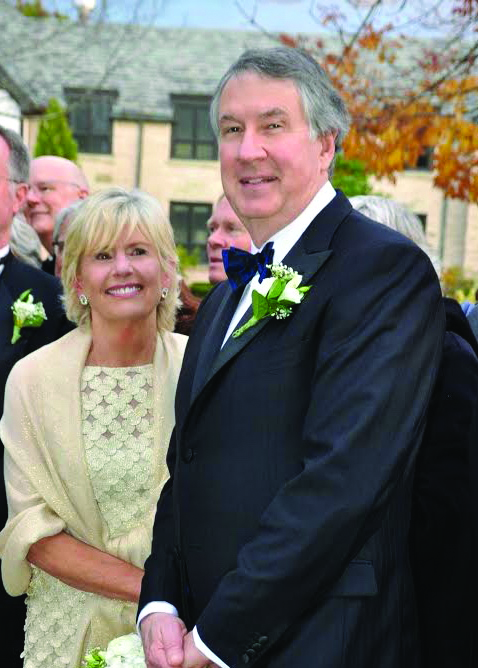 Looking back to her time on campus and the life she built as a graduate, Susan Underwood '68, P'03 speaks of her gratitude for some distinctly Laurentian opportunities.
"I really value my liberal arts education," she says, "the chance to study a variety of subjects. As a freshman, I thought I would major in sociology but ended up in government. It was a terrific major and after graduation I went to Washington, DC, and it was through my job in Washington that I met Bob.
Bob is her husband and, even though he went to a different university, he says it's clear that St. Lawrence fosters meaningful and lifelong friendships.
"These friendships have endured for more than 50 years," he says, "and it's not just with students. Academically, Susan was also close with a couple of professors at St. Lawrence."
Susan says she treasures having gone to a school where different pieces of her experience tie together, even across generations.
"I feel very grateful for what St. Lawrence encouraged me to do; all the connections with friends and faculty, course work and everything. I am very grateful I made the choice that I did in going there and we were thrilled that our oldest daughter also went and had a fabulous experience, not only with her peers, but also with faculty."
Susan and Bob have also gotten to know some current students and graduates through Laurentian events in the Chicago area, including local high school students who have attended St. Lawrence. According to Bob, "They're a neat bunch of kids, so something's going right that you're able to attract them and they come out of there as full of enthusiasm and so much energy. You just know something's working."
He goes on to say, "I think it's really, really important to experience as many kinds of learning as you can, in as wide an area, because life changes too rapidly as you go through it. It's becoming a more and more unique role for small liberal arts colleges in this country and I think St. Lawrence is really in the middle of that."
"It has meant a lot to me," Susan says, "that Bob wants to support the school and really values what it has to offer. We're involved with a number of charitable organizations and we know our contributions to St. Lawrence make a difference."
Bob says the St. Lawrence Fund lets them give in the way that makes the most sense to them. That includes joining the G. Atwood Manley Society, the committed group of donors that make a gift through their estate plans to support future generations of Laurentians.
"We know it's hard for schools to raise money that's not earmarked. So, we've typically not put constraints or channeled our giving one way or another."
For Susan, their unrestricted bequest builds on her history of support for the University. The gift
will also be included in the total for Susan's class of 1968, celebrating their 50th Reunion this June.
"I started giving back soon after I graduated. It was probably my first philanthropic effort. But, I always wanted to give to the school because I am so grateful for the encouragement St. Lawrence gave me, through all the connections, friendships and faculty mentors, course work and everything. The choice to come to St. Lawrence opened so many doors. I feel like I got so much from it."