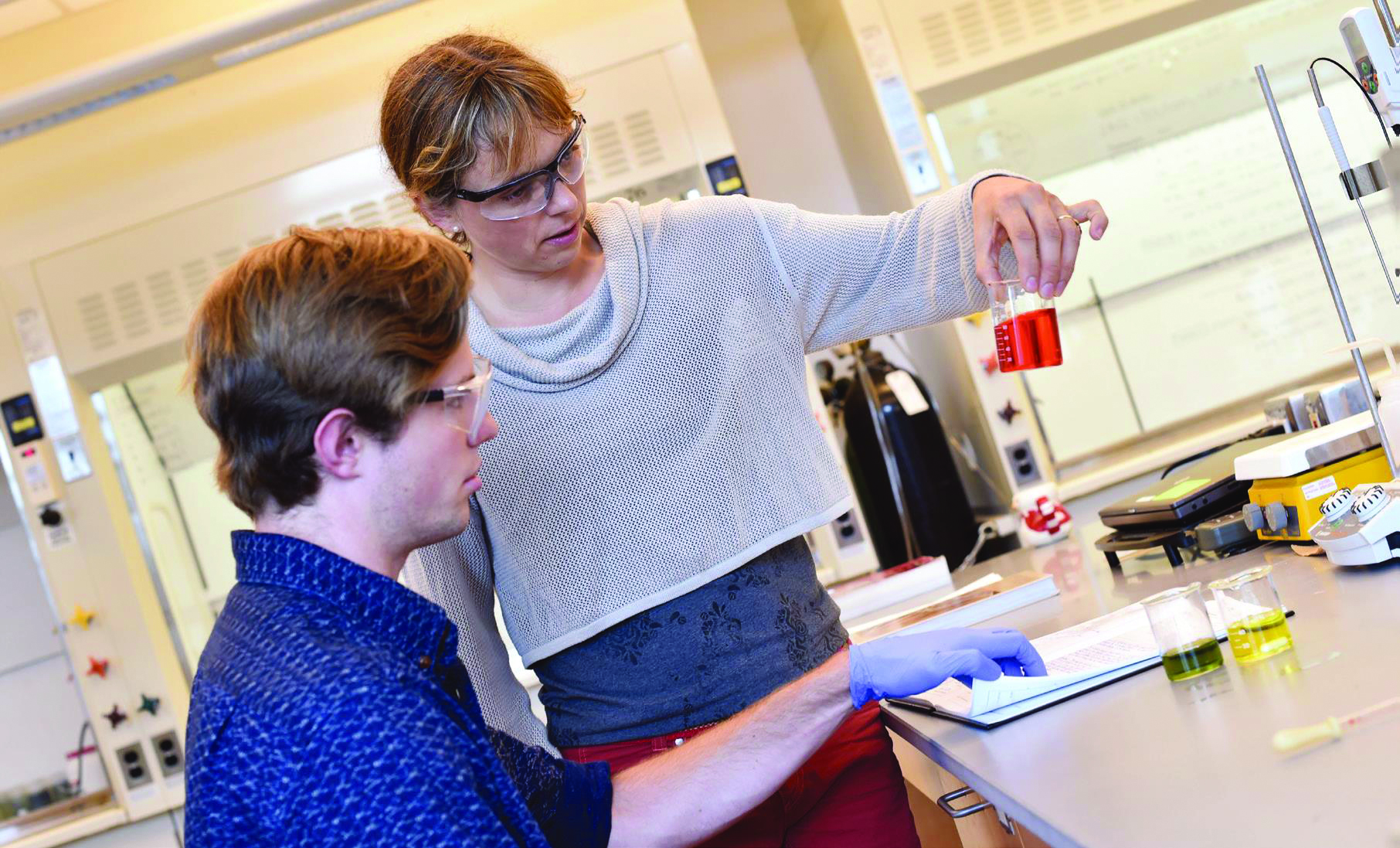 Mark Twain wrote, "Everybody talks about the weather, but no one ever does anything about it." Everybody talks about changing the world, too, but Samantha Glazier is working on it. 
She's a professor of chemistry at St. Lawrence and she knows a lot about change. As a chemical process, it happens in labs all the time. Changing the world, though, requires changing people—and sometimes that happens in her labs, too. 
"This summer," she says, "another professor and I spent a couple hours each week helping a student work through a project. This student has a great mind, innately creative and curious. And now he's applying to graduate programs to study environmental problems—and potentially solve them—using physical chemistry methods. He's found a niche, partly because of the work we did over the summer." 
For Glazier, this is an example of what can happen when she gives a student the right support at the right time. 
"I feel like I'm able to do that at St. Lawrence," she says, "and somehow, if they get the right kind of support, they can really do well." 
Glazier adds that this place has done the same for her. 
"I've been productive here and reached some of my own goals, because I'm in a supportive place.
When I've had trouble, there's always been someone to talk with, give me ideas, and help." When The Campaign for Every Laurentian began, she thought it might help faculty and staff see the University in new ways. Something similar happened to her, long before she came to St. Lawrence. 
"I was a post-doc at Bryn Mawr College," she says, "and a faculty member there mentioned his own financial giving to the College. I just couldn't believe that this man had donated money to the place where he works. It just blew my mind, but it stuck with me." 
Glazier started donating to St. Lawrence shortly after her arrival on campus. "Not very much," she says, "but I liked the idea. Then, I learned that faculty giving helps our rankings, like those in US News & World Report." 
Now, she's making a planned gift to the University. 
"I started thinking about what I would do with the money and other things of value that I may have when I die," she says. "What am I going to do with it? I decided to look at my life as a reflection of what I actually care about. So what am I doing with my life? What am I engaged in? I spend most of my life working for St. Lawrence, so that's the choice I've made on how to live my life. And I don't have to go on the internet and research if it's a good place to donate, if it's safe. I know how the money's spent. I see the outcomes. I know this place pretty well. There's no nonsense here and you can tell by the good outcomes—the students, the faculty, all of us who are members of this community." 
For Glazier, these good outcomes are demonstrations of St. Lawrence culture. 
"They come from people being good to each other here. How close the students are to each other, with faculty, coaches, and the staff. That's also true of faculty relationships with other faculty members. There's an ethic of caring for each other. I believe it supports the actions we take and those actions then lead to all the stuff we can put in brochures and take pictures of. At the very base of it, though, we play meaningful and positive roles in each other's lives." 
Glazier's sentiments echo those of Rita Goldberg, a St. Lawrence professor emerita who is giving her house to the University. 
"I've always tried to support the students and what they're trying to achieve," Goldberg says. 
She sees this gift as a way to connect the Laurentians she taught, those she continues to help, and future students. She adds that she's been able to see the positive impacts of her giving. 
"It adds up," she says, "and St. Lawrence students are the beneficiaries. That's what I want." 
Over the past four years, more than two-thirds (67 percent) of faculty and staff have given to The Campaign for Every Laurentian. Glazier is a Faculty/Staff Co- Chair of the Campaign. In this role, she shares Goldberg's thinking—and her own—with colleagues. 
"It's easy for me to talk with faculty and staff and say, 'Look, you work here. You pour a lot into this place. Giving is just one more way to express that.'" 
She stresses that, for Laurentian faculty members, it's not all about writing good lectures and mentoring students. 
"I explain that the University also needs financial support," Glazier says. "The amount isn't so important. It's really just the act of giving. I love mentoring students. Lots of us do, but the institution that makes it possible for us to do these things that we love, that needs help, too. So, for many of us, right now—during this Campaign—it's time to stop and ask, okay, well, what does St. Lawrence really need? Well, in addition to all that we give, at the moment, the University needs financial support, too. So, this is the right time to give." 
To learn more about making a gift to The Campaign for Every Laurentian, please email campaign@stlawu.edu.        
Past Manley Society Award Recipients
2019: Christine L. Koski '79
2018: Lennelle Dougherty McKinnon '58, P'83, '83, '84, GP'15
2017: David W. '78 and Barbara Wiederecht '77, P'15
2015: Robert W. '59 and Doris Kloppenburg Ferry
2014: Paul B. Gilbert '72 and Patricia Romeo-Gilbert '74
2013: Joseph P. Richardson '63
2012: Martha E. '62 and Gregg E. Peterson
2011: Harold S. Johnson '51
2010: Peter E. '58 and Elizabeth Blaisdell Van de Water '60
2009: Donald T. O'Brien '49
2008: Robert W. Lyle '58
2007: Herbert W. '47 and Sylvia A. '47 Watkins
2006: William B. '39 and Amanda J. Leckonby
2005: Albert A. Waters '35
2004: Richard D. Eckardt '29 and Leslie W. Gallt '34
2003: Donald R. Sohn '48
2002: Richard Young '40
2001: Frank P. and Anne C. Piskor
2000: Martin F. Richman '50
1999: Helen Aitchison Ellison '45
1998: Paul F. Jamieson