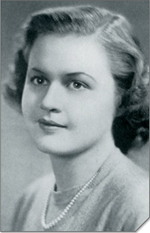 Dorothy McKinney Malin '40 was known by her friends as an energetic person with a generous spirit. Her love for St. Lawrence and passion for helping others were both illustrated when she passed away in 2010. In her will, Dorothy remembered her alma mater with a $550,000 unrestricted bequest which allowed the University to address immediate needs.
Introduced to St. Lawrence by the Vilas family, Dorothy attended a junior college for two years and then transferred to St. Lawrence for her junior and senior years. She majored in French and was active in Le Cercle Jusserand, the French language club on campus. She enjoyed riding and continued this sport through her adult life.
Dorothy met her husband when she took a secretarial position with Union Carbide. During their many years together they lived in several regions of the U.S. Upon retirement, the couple settled in North Carolina.
Dorothy's friends knew her to be lively, raising and showing miniature poodles, gardening, and volunteering. She and Robert had no children, so she left a large part of her estate to charities. Her bequest to St. Lawrence continues to enrich the lives of students, bringing them the same joy of learning that she found here.