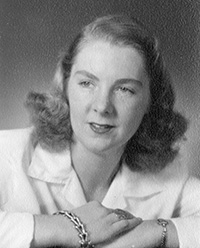 Marcia Dawson '48 was incredibly involved during her time at
St. Lawrence. Marcia was an English major and an active member in both the Greek and athletic life. Her academic extracurricular engagements ranged from the News Bureau to the Broadcasters Club to the Spanish Club. Marcia was known fondly by her Alpha Delta Pi sisters as "Mush" and during her senior year she was both house president and Sorority editor. She was also a part of the Outing Club, Intermural Sports and SLU Club. Marcia's involvement in SLU Club, an organization that values sportsmanship and requires its members to have participated in at least five sports, speaks to her athletic ability. As a true Laurentian, it seems Marcia took advantage of many of the opportunities available on and off campus.
Marcia went on to work for the Golf Digest, a division of the New York Times Company. Marcia had been a "quiet" supporter of the University, keeping herself informed of St. Lawrence's progress from a distance through the St. Lawrence magazine, campus newsletters and from conversations with her closest St. Lawrence friends.
Though many knew Marcia as a passionate Laurentian, the size and extent of her planned gift was not revealed until she passed away in 2010. Marcia's parents, Richmond and Marion Thompson, had both established charitable trusts that would mature on Marcia's death, and Marcia herself had her own charitable plan for the University. St. Lawrence was previously aware of the bequest from her mother's estate, but had no knowledge of the other two. The distributions from all three estate plans have provided the University with approximately $4.2 million in current—use support funds. These generous gifts speak to the entire family's support of the St. Lawrence mission.
A portion of these bequests were used to fund St. Lawrence University's New York City Semester, which allows students to study and participate in internships in finance and the arts. In memory of Ms. Dawson's devotion, the key leadership position of the program is named the Marcia Dawson Director, Liberal Arts in New York City Program. The University is greatly honored that she and her family believed so much in the value of a St. Lawrence education. Their generosity will enable us to continue to provide outstanding experiential and educational opportunities for our students for years to come.
— Margot Nitschke '16