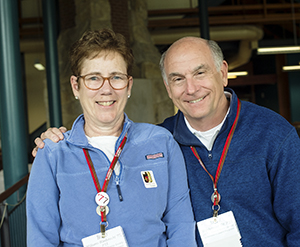 Since graduating from St. Lawrence University, Dave '77 and Barb Wiederecht '78, P'15 have consistently supported the University in many ways.
As students, they were active in University activities. Dave was a member of the fraternity Sigma Alpha Epsilon and varsity baseball and Barb a member of the sorority Delta Delta Delta. As alumni and parents, they have remained involved with the University in a variety of ways. They volunteer as Laurentian Admissions Associates, as career mentors through Laurentians Investing in Networking and Careers (LINC), as Reunion planning and development committee members and as Parents Committee members. They have also served on the Leadership Gifts Committee, the National Major Gifts Committee and the Laurentian Properties Committee.
Dave and Barb have also given generously to many areas of the University, including the St. Lawrence Fund, athletics, baseball, and the swim program, where their daughter Caitlin '15 excelled. In 2000, along with Dave's brothers, Jonathan '79 and George '81, they established the Ruth D. Wiederecht Family Scholarship in memory of Ruth Diller Wiederecht, P'78, '79, '81. Since that time, 14 awards have been made to nine students majoring in economics. As members of the Manley Society, Dave and Barb have included St. Lawrence in their estate plans to help ensure a bright future for the University.
Dave and Barb feel very fortunate that, given how rewarding their Laurentian experience was, they were able to live vicariously through their daughter for four more years!
Clearly, Dave and Barb Wiederecht exemplify what it means to be a Laurentian for Life.