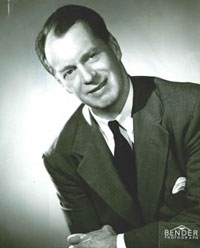 One of the most beloved Christmas songs of all time, "I'll Be Home for Christmas" has a direct connection to St. Lawrence, and thanks to the generosity of a Laurentian, the University earns something every time it plays.
Written by J. Kimball "Kim" Gannon, a 1924 graduate of St. Lawrence, along with Walter Kent and Buck Ram, the song was popularized by Bing Crosby in 1943 and became a top-10 hit that year, joining "White Christmas" to become one of America's most popular homegrown holiday songs, according to the U.S. Library of Congress.
When Gannon died in 1974, his will stipulated that St. Lawrence would receive 30 percent of the royalties from his compositions after his wife's death. His widow, Norma Allen Gannon, St. Lawrence Class of 1925, passed away in 2000.
Thanks to Gannon's planned gift, the University receives a monthly check (and will for about the next three decades), representing the royalties paid each time one of Gannon's songs is performed, used in a movie or television program, played on an airplane's sound system, or streamed online with services such as Spotify, Amazon Music or Apple Music. The song can be heard played frequently in Looney Tune cartoons and TV shows, including "Gilmore Girls" and "Star Trek: Voyager," as well as in the films Lethal Weapon and The Polar Express.
Since September 2000, St. Lawrence has received more than $631,800 in royalties from Gannon's music, with more $35,000 earned annually. The gift supports the St. Lawrence Fund, the University's annual fund which supports every student, every day. Gannon's gift is then used where it is needed most including scholarships, internships, student support services and campus enhancements.
Since its debut, more than 250 artists and groups have recorded "I'll Be Home for Christmas," including Perry Como, Frank Sinatra, Andy Williams, Tony Bennett, Ann Murray, Amy Grant and Michael Bublé. The American Society of Composers, Authors and Publishers (ASCAP) named "I'll Be Home for Christmas" the 10th most-performed holiday song of the century. The song title inspired the 1998 film I'll Be Home For Christmas, which followed two made-for-TV movies in 1988 and 1997. All of them featured the familiar tune on their soundtracks.
On Dec. 17, 1965, a NASA transmitter asked astronauts James Lovell and Frank Borman, who were aboard Gemini 7 setting a record number of orbits around earth, if they'd like to hear any music. Their request: "I'll Be Home for Christmas."
"I'll Be Home for Christmas" is not Gannon's only famous tune. The successful lyricist wrote nearly 200 popular songs and earned three Academy Award nominations. Some of his more popular songs include big-band standards "Moonlight Cocktail," recorded in 1942 by Glenn Miller; "A Dreamer's Holiday," recorded in 1949 by Perry Como; and "I Understand," recorded at different times by Nat King Cole, Dave Brubeck and Jimmy Dorsey.
Born in Brooklyn in 1900, Gannon attended St. Lawrence and was a member of the University's Glee Club as well as the golf team and the Mummers, a student theatrical organization that performed annual Christmas and Commencement plays. He also performed throughout the North Country. In between his extracurricular efforts, he found time to pen St. Lawrence's alma mater, "Alma Mater."