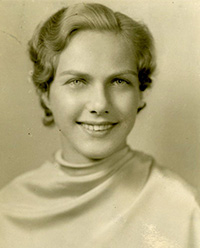 Doris M. Offermann graduated from St. Lawrence University with a degree in economics in 1934. She was a member of Kappa Kappa Gamma, the women's debate club, the Glee Club and active in athletics including basketball, field hockey, baseball and badminton. As a student leader, she helped organize the University canoe regatta, and during her senior year she acted as president of SLU Club, secretary of the Mummers and manager of the tennis team. She was also inducted into the SLU chapter of the Omicron Delta Kappa honor society during her senior year. Her collegiate involvements and accomplishments were particularly impressive in an era when many women were not able to complete college.
After graduating from St. Lawrence, Doris contributed to the WWII patriotic efforts by working in a factory that produced military equipment. Later, she went on to have a successful career as a sales representative at Rolodex. She cited one of her art appreciation classes at
St. Lawrence as the spark for her life-long interest in photography. Also an accomplished ballroom dancer, she trained at the Fred Astaire dance studio.
Though Doris never married nor had children, she was very family oriented. In addition to an outright bequest to the University upon her death, she also set up a total of seven charitable gift annuities, as well as a charitable remainder trust, in order to make sure that her family members would have income for the rest of their lives. Upon their eventual deaths, the remainders of the Trust and the gift annuities will come to St. Lawrence.