Rita Goldberg did a lot more than teach Spanish at St. Lawrence.  Now she's planning to do even more. 
"What I most enjoyed in class were the big arguments," Professor Emerita Rita Goldberg says. "There were some serious debates over literature, language, culture, you know, interpretation of things we were reading.  The students were respectful, interested, and committed. They were passionate."
In 1957, Goldberg started teaching Spanish at St. Lawrence. She was a modern language professor for nearly 50 years before retiring. During her tenure as the Charles A. Dana Professor of modern languages, she led the launch of the University's residential learning program in Spain.
"It was an interesting time," she says. "My greatest satisfaction was watching the students change. Back then, most of our students came from small towns. Many had never traveled outside the U.S. In Spain, though, I could see them become stronger, more independent. As they started to understand more and more — about language, yes, but life, too — they became more confident."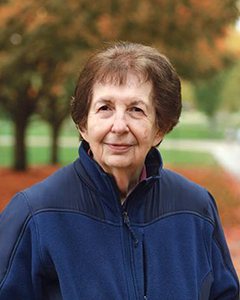 As Goldberg taught students, she also supported their learning by donating to St. Lawrence.
"It wasn't a huge amount," she says, "but when I could give, I did."
Upon retiring, she wanted to help the University continue raising money for students. In honor of her retirement, friends and colleagues established the Goldberg Fund for International Study in 2002. It has helped students travel and study abroad.
"I've always tried to support the students and what they're trying to achieve," she adds. "I haven't been able to give large amounts. I mean, I've never given a building…."
On that word, though, she trails off. "Well, not yet," she says. Goldberg is giving St. Lawrence a building: her house.
"I saw someone else do that and thought it was a good idea," she says. "I live alone and don't have any relatives in the area, so, I thought I'd save my executor the pain of arranging to sell it. Besides, I was planning on giving to St. Lawrence anyway. So, it was easier to stipulate in my will that, after my passing, the house will go to the University. I won't need it. The whole process was painless and, really, it's just another way of giving."
Goldberg sees her giving as a way to connect the Laurentians she taught, those she continues to help, and future students. She adds that she's been able to see the positive impacts of her giving.
"It adds up," she says, "and St. Lawrence students are the beneficiaries. That's what I want."
To learn more about giving or bequeathing real estate to St. Lawrence, please contact Kurt Terrell, director of planned gifts, at kterrell@stlawu.edu or (315) 229-5026.